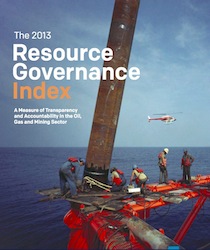 Oil, Gas and Minerals for the Public Good: The Revenue Watch 2013 Resource Governance Index. Revenue Watch Institute. May 2013.
…Trillions of dollars in resources lie buried in the backyards of many of the world's poorest citizens. Oil, gas and minerals can, if managed effectively and accountably, stimulate economic development. Too often, however, secrecy, corruption and weak institutions obstruct this path. To advance the understanding of this challenge, the Revenue Watch Institute has produced the Resource Governance Index, a collection of research, rankings and analysis that measures the quality of governance in the oil, gas and minView Posting sector of 58 countries. Together, these nations produce 85 percent of the world's oil, 90 percent of its diamonds and 80 percent of its copper, generating trillions of dollars annually. The future of these countries, both developed and developing, depends on how well they manage their resources.
… Africa's future has never looked so bright, thanks to the many oil, gas and mining discoveries made throughout the continent in recent years. Of the 58 countries the Resource Governance Index surveyed, 17 were from sub-Saharan Africa. Angola, Equatorial Guinea and South Sudan rely on oil and gas revenues for more than two thirds of their budgets. In Gabon, Nigeria and Zambia, oil and minerals made up more than 80 percent of exports in 2010. Many African countries have laws to promote accountability in the oil and mining sectors, but nevertheless suffer from troubling gaps in the governance of their natural resources….
………………………………………………………………………………………………………………………………………….
Details – scheduled launch events in Washington, DC; Accra, Ghana; London, UK: http://www.revenuewatch.org/rgilive
………………………………………………………………………………………………………………………………………….