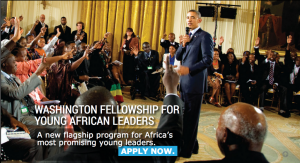 Grooming the Next Generation of Business Leaders In Africa – Mandela Washington Fellows / Young African Leaders Initiative (YALI). Video. CNBC Africa. 22 May 2015.
President Barack Obama's Young African Leaders Initiative (YALI) hosted its inaugural regional Conference for the Mandela Washington Fellows in Johannesburg. But how well are these platforms helping to groom the next generation of business leaders in Africa? For this discussion CNBC Africa is joined by Joyce Warner, Senior Vice President at IREX and Irene Chikumbo, Co-founder, Hypercube Technology hub.
http://www.cnbcafrica.com/video/?bctid=4250563955001
…………………….
Related work from The African Leadership and Progress Network (ALPN):