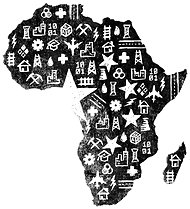 Related: 
………………………………………………………………………………………………………………………………
WEBSITES – ORGANIZATIONS & INITIATIVES
Africa Diaspora Marketplace (ADM II)
An initiative of the United States Agency for International Development (USAID) and Western Union ] The second African Diaspora Marketplace (ADM II) encourages sustainable economic growth and employment by supporting U.S.-based African Diaspora and other entrepreneurs with demonstrated relevant connections to, or experience in, Africa with innovative and high-impact ideas for start-up and established businesses in Africa. The new Marketplace will incorporate key learning from the first African Diaspora Marketplace, by focusing grants toward priority, high-impact sectors in Africa, including agribusiness, renewable energy, and information and communication technology (ICT).
Diaspora for Development Initiative – United States Agency for International Development (USAID) / Accenture 
African Diaspora Program – World Bank.  Seeks to enable and enhance the human and financial capital contributions of African Diasporas to the economic development of their home countries.
African Diaspora Policy Centre (Netherlands). Enables African Diaspora in Europe to connect more closely with the continent as a collective force. The thematic areas are Peace building, Better Governance, Migration & Development and Brain Gain.
Africa-Europe Platform Partner Organization (AE) – A network of Europe-based African diaspora organizations–initiatives, studies, etc.
Africa-UK – Publications and information on projects/initiatives
African Foundation for Development (AFFORD) (UK) – Publications and information on projects/initiatives
African Global Diaspora Summit 2012. 
Diaspora-Driven Development Hub – Global Development Professionals Network. With remittances more than double overseas development assistance, is it time to more actively engage the diaspora? Diaspora-driven development aims to explore how diaspora groups are gaining more traction as development actors.
International Diaspora Engagement Alliance: IdEA. Promotes and supports diaspora-centered initiatives in entrepreneurship, volunteerism, philanthropy, diplomacy, and social innovation in countries and regions of diaspora origin. Provides information on several initiatives.
Global Diaspora Forum 2013. May 13-14, 2013. Under the theme of "Where Ideas Meet Action," the 2013 GDF provides the platform to discover inspiring stories from prominent diaspora figures in American popular culture, demonstrate exemplary initiatives in international development and diplomacy undertaken by diasporans of all generations, and showcase methods of organization and bridge-building that encourage next-generation diasporans to connect with their countries of heritage.
Global Forum on Migration and Development
High-level Dialogue on International Migration and Development – United Nations (3-4 October 2013)
The purpose of the High-level Dialogue is to identify concrete measures to strengthen coherence and cooperation at all levels, with a view to enhancing the benefits of international migration for migrants and countries alike and its important links to development, while reducing its negative implications.
Global Migration Group – Diaspora Relations and Contributions
EC-UN Joint Migration and Development Initiative
Global Remittances Guide. Remittance trends and patterns worldwide
International Organization for Migration
………………………………………………………………………………………………………………………………………….
For more information (including reports, articles, events, etc.), visit:
………………………………………………………………………………………………………………………………………….