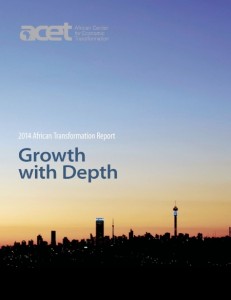 The African Center for Economic Transformation (ACET).
The 2014 African Transformation Report draws on the ACET's research program of country, sector, and thematic studies to look systematically at transformation as a broad framework for economic growth and development. The report introduces the African Transformation Index to help African policymakers see how their countries are transforming and where they stand in relation to their neighbors.
What is Transformation?
Our report's main premise is that African economies need more than growth—if they are to transform, they need growth with DEPTH. That is, they need to Diversify their production, make their Exports competitive, increase theProductivity of farms, firms, and government offices, and upgrade the Technology they use throughout the economy—all to improveHuman well-being.
But transformation is a long-term process. It requires constructive relationships between the state and the private sector. Private firms will lead in the production and distribution of goods and services, in upgrading technologies and production processes, and in expanding employment. But firms need a state that has strong capabilities in setting an overall economic vision and strategy, efficiently providing supportive infrastructure and services, maintaining a regulatory environment conducive to entrepreneurial activity, and making it easier to acquire new technology and enter new economic activities and markets.